Nikon Coolpix B500 16MP Digital Camera 40x Optical Zoom Black Full-HD + 16GB Kit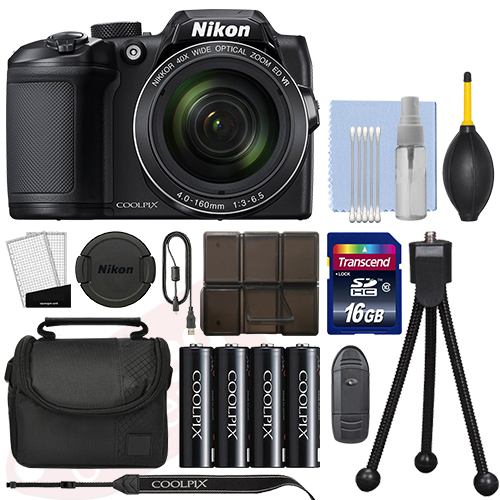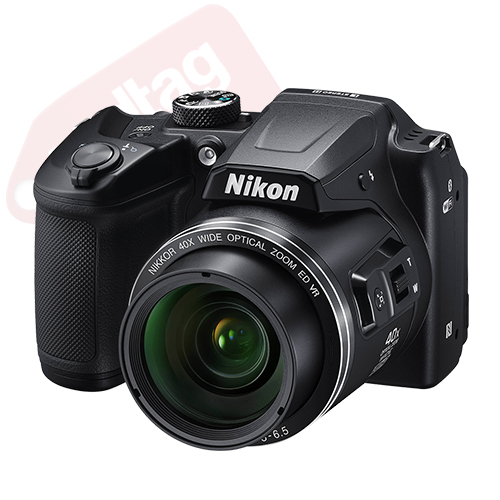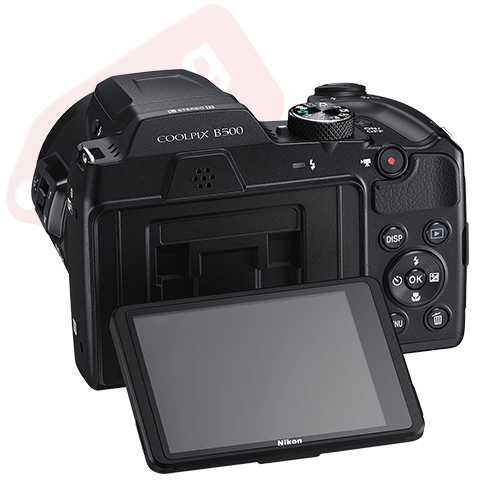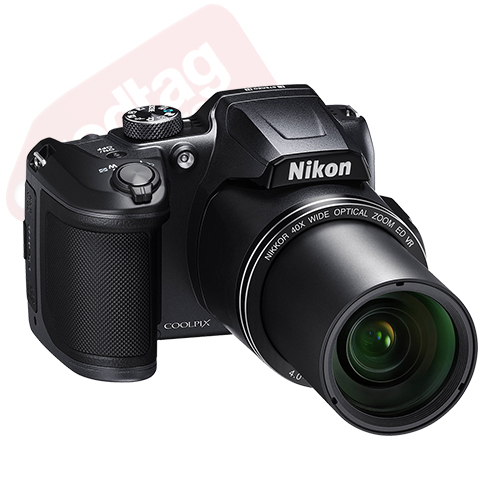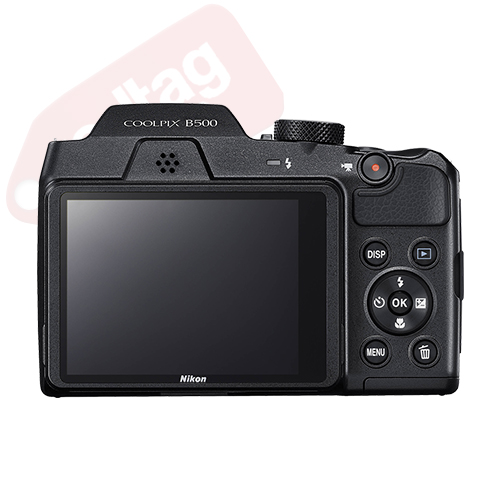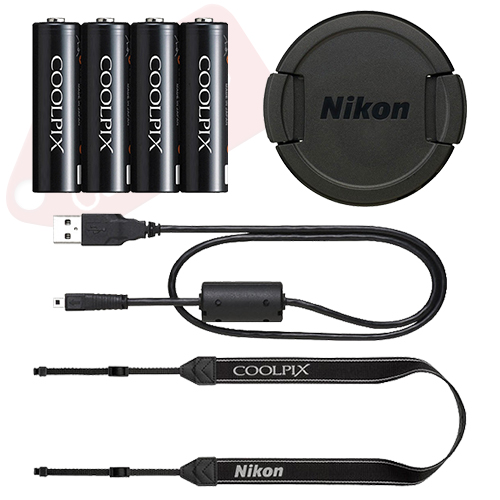 Item Description
The Nikon COOLPIX B500 Digital Camera feels great in your hands, whether youre zooming in with its super telephoto NIKKOR glass lens or recording 1080p Full HD video using the flip-up LCD. And it takes all the work out of shooting beautiful photos and videos with its 16 megapixel low-light sensor, Lens-Shift Vibration Reduction (VR), easy menus and controls, fun creative effects and outstanding automatic operation. Plus, the whole time youre shooting, the COOLPIX B500 can be easily and seamlessly connected to a compatible smartphone through Bluetooth low energy (BLE) technology for instant photo sharing and remote camera control. Simply brilliant.
FEATURES:
40x optical zoom, 80x Dynamic Fine Zoom – Few shots are too far away for the COOLPIX B500s NIKKOR ED glass lens. 40x optical zoom gives you super telephoto power, then Dynamic Fine Zoom, an enhanced digital zoom, effectively doubles that reach for a whopping 80x zoom. Lens-Shift Vibration Reduction (VR) keeps your shots steady—crucial at such long distances—and a 16-megapixel backside illuminated CMOS sensor captures every detail.
Unleash new possibilities with a compatible smartphone – Install Nikons new SnapBridge app on a compatible smartphone or tablet* and unlock exciting new capabilities with the COOLPIX B500. Built-in Wi-Fi®, NFC and Bluetooth® low energy (BLE) maintain a constant connection between the app and your camera, so each shot you take automatically transfers to your smartphone or tablet for sharing, editing with photo apps or uploading to your favorite sites. You can even use the Snapbridge app to control your camera remotely!
Tilting 3.0-inch 921,000-dot LCD – The COOLPIX B500s large, tilting LCD display makes it easy to compose your shots and monitor your video recording. You can also use it to find exciting new shooting angles.
Item Includes
Nikon COOLPIX B500 Digital Camera (Black)
UC-E16 USB Cable
AN-CP21 Strap
LC-CP31 Lens Cap for COOLPIX L840
4 x AA Batteries
Kit Includes
Nikon B500 Camera

Digital Camera Case

16GB Memory Card

Deluxe Dust Blower

USB Card Reader

Table Top tripod

6 Piece Card Case

3 Piece Cleaning Kit

Screen Protectors
Small Digital Camera/Video Case (Black)
Transcend 16GB SDHC Class 10 Memory Card
Deluxe Dust Blower
USB 2.0 Memory Card Reader
Flexible Tripod
6 Piece SD/SDHC Memory Card Hard Plastic Case
3 Piece Deluxe Cleaning kit
Ultra Clear screen protectors
Small Digital Camera/Video Case (Black)
This small photo/video camera case is perfect to hold your DSLR and a few accessories. It features a sleek design with sturdy construction. It has a comfortable carrying handle and a removable shoulder strap.
Transcend 16GB SDHC Class 10 Memory Card
As high-tech gadgets become increasingly advanced with ever-improving video and audio quality, we find ourselves needing extra speed and memory capacity to store our high-resolution digital masterpieces. With this 16GB of storage, you can store your entire music or picture collection on today's high-megapixel digital cameras, HDTV digital video cameras, PDAs and other memory-hungry devices.
Capture without limitation by pairing your digital camera and camcorder with Transcend's SDHC Class 10 Cards. Designed with the photography enthusiasts and videographers in mind, Transcend's SDHC Class 10 Cards can deliver high-speed performance at an affordable price.
High-speed Performance
Fully Class 10 compliant, Transcend's Ultimate SDHC Class 10 Cards use the latest flash technology to help maximize camera's response time, delivering an ultra-fast read/write transfer rates. This high speed performance is suitable for high-capacity photographs and high-resolution videos.
Storage to Meet Your Needs
Transcend's SDHC Class 10 Series come in a wide range of capacities to fit your storage needs. Whether you have a simple point and shoot or a high-end DSLR, it is the perfect everyday SDHC card to have during all occasions.
Improves Response Time
The industry-standard Class 10 rating guarantees a fast-performance that will improve your camera or camcorder's responsive time. This means even on your simple point and shoot camera, you can enjoy extended periods of continuous burst-mode shooting and HD video recording without lagging.
Deluxe Dust Blower
This Dust Blower is Perfect for keeping your camera clean. Excellent way to remove dust off sensitive camera parts without physical contact. Safe for lenses, including multi-Coated Surfaces. Non-toxic.
USB 2.0 Memory Card Reader
The high speed SD/SDHC/MMC memory card reader comes complete with a USB cord for added convenience. It works perfectly with your desktop or laptop computer. It is compatible with PCs & MACs. Ultra slim design and works with USB 2.0.
Flexible Tripod
Flexible Table Top Tripod
Universal Tripod Mount
Pocket size
For All Small Digital camera and camcorders
6 Piece SD/SDHC Memory Card Hard Plastic Case
A sleek, convenient case that holds 6 SD/SDHC cards. It fits in carrying in a pocket or purse for ease. Made of plastic for durability.
3 Piece Deluxe Cleaning kit
This 3 piece cleaning kit is perfect to carry in your camera bag. It includes 5 cotton swabs, a bottle of cleaning fluid and a soft-tex fiber cloth.
Ultra Clear screen protectors
The screen protectors are perfect for digital camera screens, cell phone screens and game player screens. 3 pieces of screen protector are included with a squeegee card to smooth them out and remove air bubbles. They can be cut down to size to fit any screen from 1″ to 4″.
Universal screen guard
Supplied in 3 sizes for a custom fit
Prevents scratching, wear and damage
Helps to maintain LCD and camera warranty
TERMS & CONDITIONS
When clicking the Buy-It-Now button or placing a bid you automatically enter into a legally binding contract to purchase the item. Please commit to buy only after you decided to purchase & you are ready to pay.
A minimum 5% cancellation fee will apply to all orders that are not paid or returned for non-defective reasons.
There will be no price protection, if the price of an item changes after purchasing.
We are required to collect state tax from NY state buyers.
RETURN POLICY
If you have received wrong or defective item(s), please ensure that items are returned to us within 30 days in original packaging in brand new and resalable condition. You will be required to contact us for a return authorization form before sending anything back to us.
All returns must include original box, original factory packaging (foam plastic wrappings, etc.) Do not deface original factory cartons or packaging in any manner. We will not accept a return if the goods are not in its original condition.
Do not discard box, until equipment has not been tested.
CONTACT US
Whether you are just taking the time to view our products or a buying customer, you matter to us.
Sunday – Thursday 9:00 AM-7:00 PM
Friday 10:00 AM – 2:00 PM
Extended hours: 9:00 PM – 12:00 AM
A RedTag Experience!
Specification:
Nikon Coolpix B500 16MP Digital Camera 40x Optical Zoom Black Full-HD + 16GB Kit
User Reviews
Only logged in customers who have purchased this product may leave a review.
Nikon Coolpix B500 16MP Digital Camera 40x Optical Zoom Black Full-HD + 16GB Kit